I've been dying to create this outfit ever since Steph announced the
Bonny Knit top
as one of Cake Patterns' Riffs.
Lucy, my beagle, approves.
I initially thought of making a dress, but then I decided to make the top with a matching skirt, so I can wear them together as a faux dress, or separately with other stuff. I like wearing it with my denim
Hummingbird skirt
, for example:
There will be a post later chronicling the trials and tribulations I faced with my various Hummingbird garments.
It also looks pretty smashing with my new
23Skidoos
, hmm? I'll have to get some in action shots of this fabulous outfit when I go dancing at my lindy exchange this weekend (this is why my hair is all nice and curled- I'm waiting on my ride to go to the exchange as I'm writing this). I love the sailor collar, but let me tell you, it was a bitch getting all those ribbons sewn on straight. I also had some difficulties figuring out how to finish the neckline. I wish Steph had included a diagram for just that part of the instructions because I had a heck of a time puzzling out what she was getting at..
Now let's talk about my pocket.
I was inspired by the chevron patches on the sailor uniforms back when I performed in South Pacific. Here's an example of one that I found on
etsy
: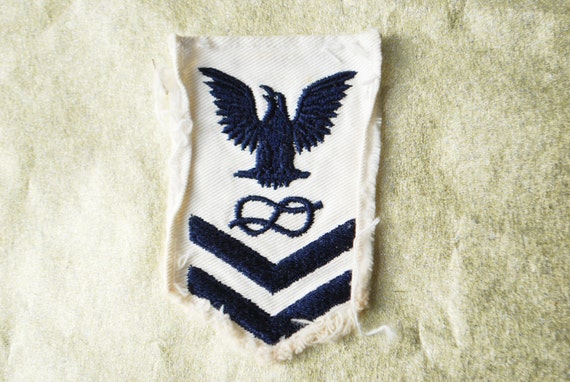 I wasn't exactly sure how I was going to achieve my dream pocket, so I cut out two pieces of fabric and appliquéd more ribbon onto one of the pieces. I then sewed them together and turned them right side out, folded the flat top over and sewed it in place, and then sewed the patch pocket onto the skirt. It turned out pretty nicely, I think. The skirt itself is a simple circle skirt and I used
Steph's knit waistband tutorial
for the waist. I used some super sturdy waistband elastic, and it fits perfectly and wears wonderfully with a belt.
So yes, I am super excited to go dancing in this faux-dress. Now if only my ride would arrive...
Here, have another picture of Lucy and I posing: